Wastewater treatment system wood processing industry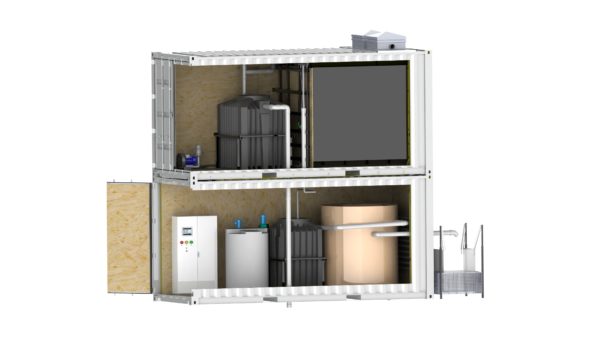 ClearFox® container treatment plant
Direct discharge to the environment – surface water
Fixed bed biological reactor FBR
Lamella clarifier
nutrient dosing and pH-Value adjustment
sludge dewatering container
Quick commissioning (Plug & Play)
Compensation of the nutrient deficiency
Wood is the raw material of the future. In order to enable environmentally friendly construction, our customer, a leading German sawmill, is focussed on the processing of regional raw materials in the production of high-quality sawn timber products. In order to meet the growing demand for dried construction timber with a wood moisture content of 8 – 16 %, our customer expanded its timber drying plants.
During the drying process, the water stored in the wood is expelled and released into the air. The heat stored here is recovered in a heat exchanger. The condensate remains as residual material that must be treated.
The soil condition survey of the German Federal Ministry of Food and Agriculture shows that a large part of the forest areas in Germany are oversupplied with nitrogen. Phosphorus deficiency is again found in all main tree species.
Since these nutrients are contained in the condensate, the Water Management Office has called for a sewage treatment plant to prevent increased nitrogen in wastewater discharges into the environment.
As a company that is dependent on healthy and functioning ecosystems and thus committed to environmental protection, it was a matter of necessity  to protect the surrounding waters from excessive nutrient inputs by discharging the polluted condensate.
With the construction of the new drying factory, the space available on site became increasingly limited. For this reason, the decision was made to use a space-saving and proven containerized sewage treatment plant from ClearFox.
The industrial wastewater treatment plant comprises the compact plant components, pH-value adjustment, P-nutrient dosing, biological treatment as well as the lamella separator (secondary clarifier) and sludge dewatering. The cost-saving wastewater technology makes it possible to clarify the condensate produced during drying in order to comply with the prescribed limit values.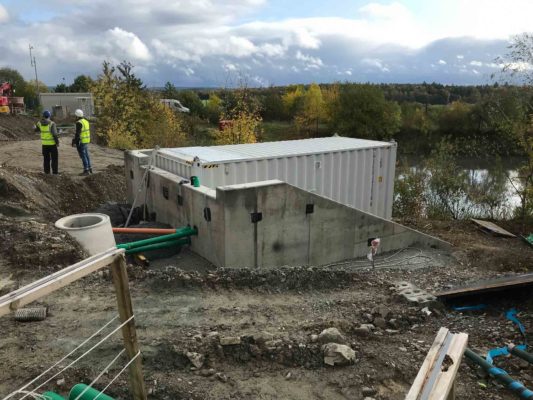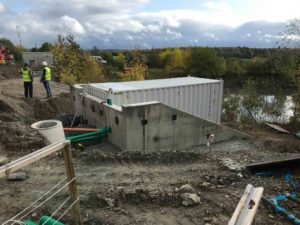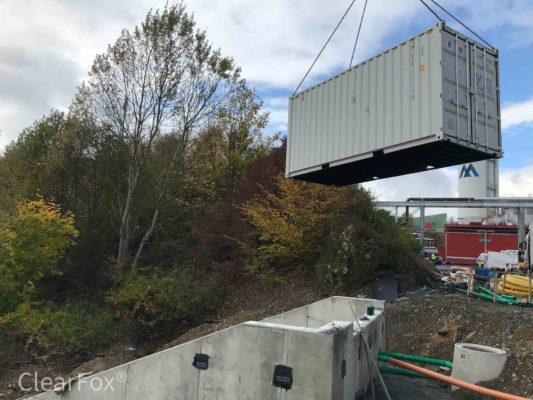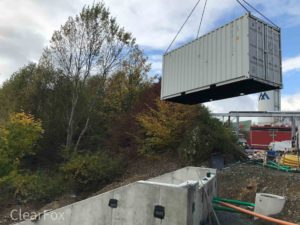 Biological treatment and nitrification
Nutrient dosage
pH adjustment
Sludge dewatering
capacity: 72 m³/d
Input: Condensate from wood drying