ClearFox® DAF
The ClearFox® DAF is a modular unit, designed for highly efficient treatment of any type of industrial wastewater. With advanced technology, we can achieve higher removal rates of pollutants than competitor products. The clearfox DAF is a flexible solution that can be applied to a wide range of wastewater applications. Capacities range from 1m3/hr to 250m3/hr. Containerised DAF solutions are modular and can be installed as standalone solutions or as pretreatment in a wastewater treatment plant with other proces ssteps.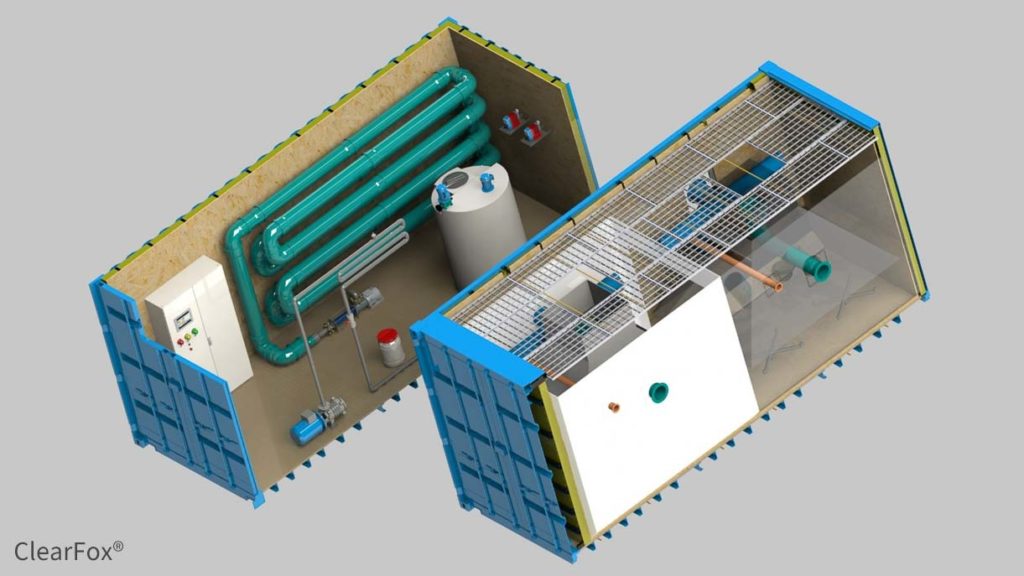 Advanced physical and chemical treatment process
Flotation plants are especially suitable for wastewaters from operation and production processes such as:
Meat processing / Slaughterhouses
Dairy factory / Milk production
Wine / Juice production
Breweries
Canning factory
Commercial kitchen / Canteens
Restaurants
Cosmetics production
Food transport company
Chemical industry
Pharmaceutical industry
Petrochemical industry
Textile industry
Paper industry
Municipal wastewater cleaning
The ClearFox® dissolved air flotation series is characterized by its extremely robust, space-saving design. It can be supplied skid mounted or fully containerized. The great success of this technology is based on its simple and cost effective operation. The systems have been installed in many major European food producing facilities and industrial wastewater applications globally. The ClearFox® DAF modules can be supplied with other ClearFox® modules as part of a larger solution or as standalone solutions.
Benefits of the ClearFox®flotation technology are as follows:
Highly efficient in COD/BOD/FOGs reduction (up to 99%)
Self cleaning patented design [no mechanical scraper required for many applications]
Two stage DAF – not just single stage like standard DAF systems
Integrated feed pump
pH adjustment and flocculation system
Lower chemical requirements than standard DAF systems
Made from PP which has a higher resistance to many liquids/chemicals when compared to SS
Suitable for high TDS wastewater
Totally automatic operation
Standardized manufactured models
Compact design with smaller footprint than standard DAF systems
Clog-free saturation system
Pre thickened flotation sludge produced
Easy to service
The ClearFox flotation plant is fully automatic. A helical rotor pump feeds the water from the onsite equalisation or collection tank to the reactor.
The wastewater flows through a pH-regulation system, where pH-fluctuations are adjusted. Then, wastewater flows continuously into the DAF reactor. Additives are mixed in a polymer preparation station in order to aid the flocculation and flotation process.
These flocculants are mixed automatically with the inflowing waste water. A multiphase pump saturates the outlet of the water continuously with air, which is then recirculated into the reactor. The pressure release causes a flotation of the floatable particles. These accumulate in the upper section of the reactor and are separated by a self cleaning process, or with a scraper for special applications. Flotation sludge is removed via a cone-shaped opening with compressed air.
 Operation:
The plant is fully automated and depending on the waste water flow, a high quality effluent quality is achieved at all times. The system is very robust, and uses no clearing devices with movable chains or scrapers (needing lubricants etc.), that require constant maintenance.
The Systems have proven their reliability in many industries over the years, particularly in the food industry.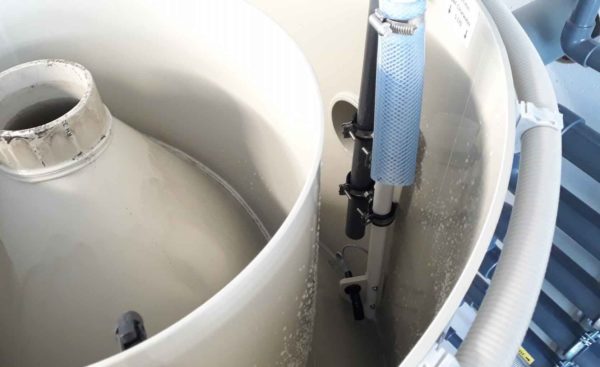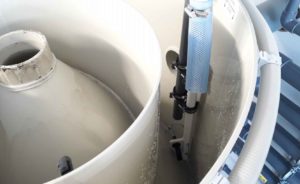 Cleaning efficiency:
The Cleaning-efficiency depends on how high the degradation rate of the waste water is and operator behavior.
The effluent is largely free from fats and purified to an indirect discharge quality, pH 6.5-7, COD 1.500 mg / l, BOD 1.000 mg / l, TSS 500 mg / l. There is no change in temperature as a result of the process, and the effluent quality is suitable for biological post-cleaning.
Typical cleaning performances in the milk / meat industry in the DELIVERY / PROCESS are as an example [mg / l] COD ZU: 3000-7000 / AB: 1000-1500, BOD ZU: 2000-3500 / AB: 700-1000, TSS ZU: 300-700 / AB: 250-500
Installation:
The DAF (Dissolved Air Flotation) System includes:
flotation reactor
feed pump eccentric screw for inflow
feed pump eccentric screw for sludge feed
small interim sludge storage tank
dosing / mixing line
polymer mixing station
dosing pumps (2 x)
suction lances for chemical canister
multiphase pump
pH neutralization
room aerator and heater (frost protection)
control unit
If not installed in a container, the scope of supply consists of three parts that can be set up freely and are mounted on skids. These parts (pump station, flotation station, dosing station), as well as the control cabinet, can be easily transported with forklifts.
The base area for the system components must be firm and level (foundations), the environment dry, covered, dew protected; in closed structures with multiple air changes according to the regional regulations.
Consumer materials:
In order to regulate the pH in the water, acids or alkalics are added into the system. The system also has a metering system for fission products (flocculant) and polymer (flocculant-help). The specific consumption is determined in the laboratory and this is optimized by us after the start up of system.
Residues, sludge:
In the ClearFox® dissolved air flotation system, fats and oils along with other dissolved substances which are extracted, are removed from the wastewater as flotation sludge. The resulting amount is dependent on the concentration of such substances in the wastewater. It can be assumed that about 40 to 60 liters of flotation sludge per m³ of wastewater are produced at average concentrations. This is approximately 4 to 6 % of the volume of the waste water entering the DAF system.
The flotation sludge further dehydrates during storage, thus the longer it is stored, the less water content the sludge has. It is recommended to use enclosed structures /systems to avoid odour problems.