ClearFox® Clarifiers for Water Treatment
ClearFox® lamella clarifier
ClearFox® lamella clarifier, Lamella Plate Clarifier or inclined plate settler (IPS)
Application: Industrial, Commercial & Municipal treatment

Application Sizes:

50

to 15.000 PE

Datasheet: Clarifier
Manufactured in: Germany
Special features are:
A lamella clarifier is a primary clarification device, capable of managing raw wastewater with high concentrations of suspended solids. It is a type of settler designed to remove solid particles from liquids. The advantage is that a lamella clarifier requires up to 80% less space compared to a traditional settling tank and therefore has a small eco footprint. Furthermore lamella clarifiers offer a simple design without requiring the use of any chemicals.
The ClearFox® lamella clarifier can be integrated into a wastewater treatment plant as a process technology, or be used as a stand-alone unit. Typical applications are the removal or separation of solids (specific gravity >1.0), grit or metals. This clarifier can operate with overflow rates 2 to 4 times more than of traditional clarifiers, thus allowing a greater influent flow rate and resulting in a more time efficient clarification process.
The ClearFox® lamella clarifier is supplied as a complete easy-to-install container or as a plate pack assembly for installation into either concrete or steel tanks.
Applications are:
Primary clarification of waste water
Wash water recirculation systems (as in fruit & vegetable crop processing)
Raw water clarification
Wash water settlement
Humus settlement
Treatment of effluents in metal finishing, and iron and steel plants
Gravel and sand industry
Recycling industry
Glass / Ceramics / natural stone
Chemical industry
Energy industry / cooling water
Tunneling / construction sites
Waste / Landfill / street-cleaning
Heavy metal precipitation
Municipal water treatment Systems
Wet scrubber and slaking effluents in the power industry
Thickening processes in the chemical, mining and mineral industries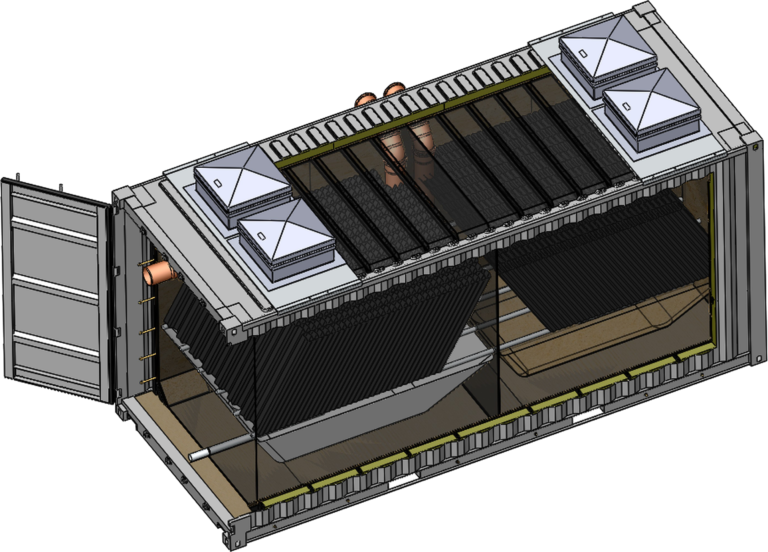 The containerized version, scope of delivery:
1 x Lamella clarifier, Installed in a 20ft ISO high cube sea container, insulated, including valid CSC
Tanks: 2 chambers, with each chamber rotomoulded as a one piece PE Tank.
Flow rate: Max. 25m³ /h (Q24= continuous feed over 24 hours)
Dimensions: (L, B, H) 6.05 x 2.44 x 2.89 meters
Height with dome shaft construction: 3,45 meters
Required area: 15m²
Max. Transport weight: 6,500 kg
Max. Operating weight: 34,500 kg
Inlet: KG – DN 200
Outlet: KG – DN 200
Inlet / outlet height: 2.58 meters / 2.54 meters (measured from the bottom edge)
Material: Lamella material (PPTV)
Effective settling area: ~50m²
Sludge vent: 2-inch outlet with stainless steel fitting, hose connection and sludge feed pump (situated inside technical room)
Discharge, 2-inch outlet, 0.25 meter (1 x front / 1 x back)
Access: Domeshaft (4 pc.) on the container roof to both chambers and the container door
*sludge feed to separate sludge storage/ dewatering station.
Functionality:
The separation results vary and largely depend on the feed water quality and types of contaminants contained. The waste water enters the ClearFox® lamella clarifier through the inlet channel at the top and flows to the bottom of the separator.
The water is then led back to the top and in so doing, the water flows through the lamellas, onto which the solid particles settle. The treated water continues its journey to the top and reaches the outlet by passing a weir. The solid particles (sludge) on the lamellas, slide down the lamellas and are collected in the sludge funnel.
The sludge is then exported at intervals, as defined in the control programme. Installed alarms inform of any malfunction (when the sludge hopper is full or the settlement process is failing). This settlement process is highly effective and operates with minimal maintenance.