Sewage treatment plants for towns, villages, communities and industry are typically installed in a fixed locations. Currently, wastewater treatment is faced with new challenges. Increased demands on sanitary equipment and the protection of health and the environment require solutions for waste water treatment at refugee camps and military camps as well as for construction sites, oil fields and mining camps.
Every application requires a problem-oriented, case-specific approach. Some of the sewage treatment plants have to be available in a short time, they have to be mobile and pre-assembled ready for use. They also need to be robust and easy to use.
All required effluent standards goals must be achieved and complied with. Depending on the local requirements, this ranges from discharge into watercourse, sea, to ground for irrigation or into the main sewer. In certain cases, drinking water production from sewage or wastewater reuse is also required.
Attention must be paid to climate conditions and spatial constraints and footprint. Our container wastewater treatment plant using treatment modules offers a quick and optimal solution for waste water, sludge and water reuse.
ClearFox® Mobile Wastewater Treatment Systems were developed specifically for these special applications.
The features are:
delivered and installed quickly (plug & play),
no infrastructure or building necessary; just a solid base to set up the containers,
modular,
flexible for changes and extensions,
mobile and compact,
can be leased and reused in other locations,
robust in operation and automatic operation,
easy maintenance
low power consumption and operating costs, which results in a small, ecological footprint,
approved process technology that is easy to understand
guaranteed cleaning process and compliance with local regulations
completely made in Germany with guarantee
Mobile/ Portable & Modular Container Design with CSC Certificate
All components are fully installed in ISO sea containers. The ClearFox® containers meet all safety requirements for international freight transport. They are marked according to ISO 6346 and verifiably suitable for transport on container ships.
This is evidenced by the certificate of the International Convention for Safe Containers (CSC). This results in considerable advantages for transportation. The sea containers are 100% insurable. The largely standardized and prepared procedure enables inexpensive transport. Customs clearance is also faster, which in many cases is time-limited.
All containers are assembled in the PPU factory for customers. PPU is the original equipment supplier (OEM) for these container systems. They are assembled on the basis of the standard containers using pre-made parts lists for the respective application.
Saves money on transport
Fast customs clearance
Uncomplicated sea transport
100% insurable sea containers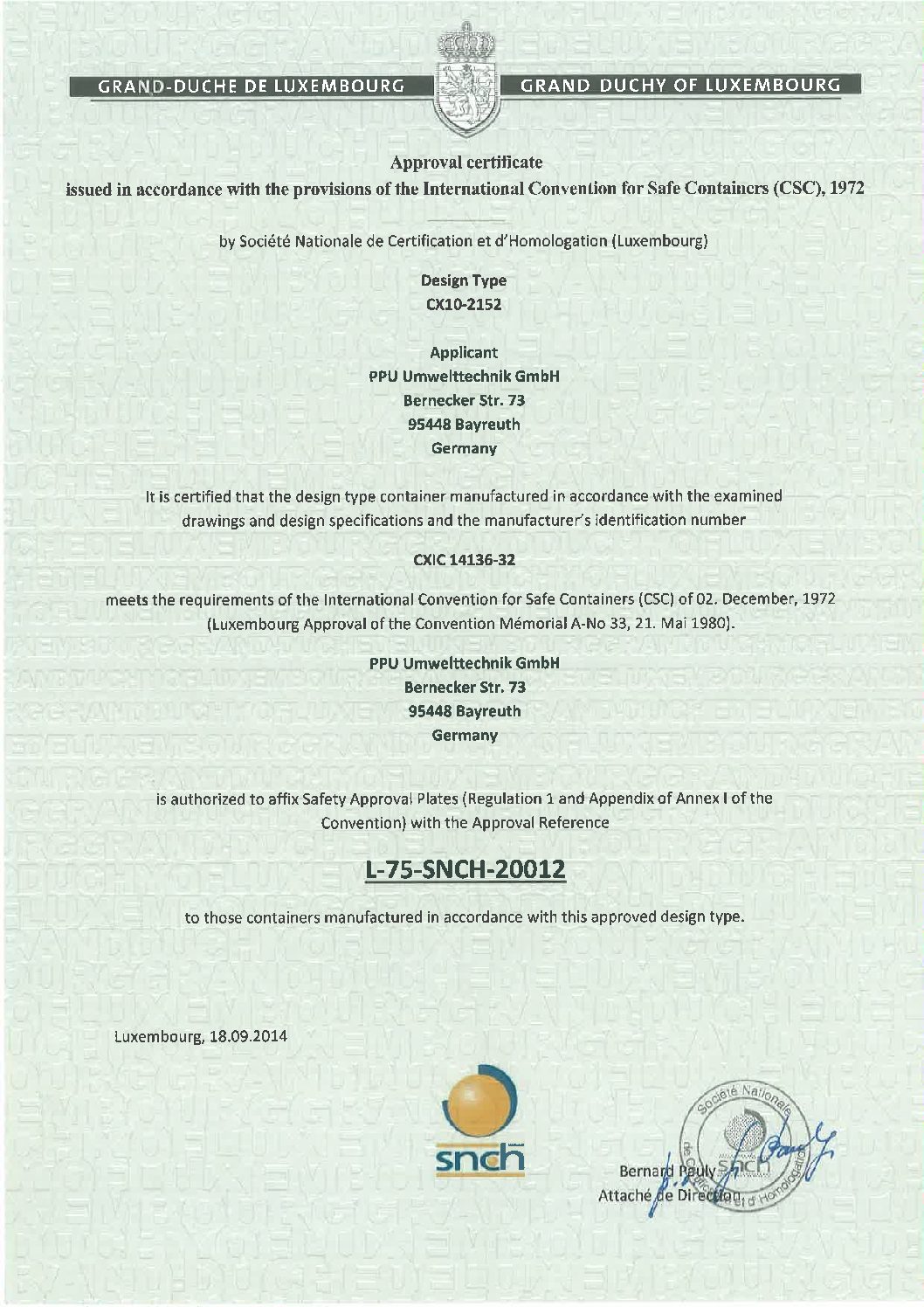 Quick Installation and Easy Operation
For all of these reasons, the ClearFox® container treatment plants can be installed quickly, as is necessary for refugee camps. Depending on the cleaning requirements, different modules can be combined. This enables easy adaptation to changing framework conditions such as wastewater composition or cleaning requirements. If the camp is enlarged, the facilities can easily be expanded. Most of the time, there is a lack of qualified personnel to operate complex systems.
ClearFox® container wastewater treatment plants work fully automatically and can be operated easily after a short training. The core technology of the immersed fixed bed (FBR) used in the ClearFox® container wastewater treatment plants is superior to alternative systems such as membrane bioreactors (MBR) and fluidized bed reactors (MBBR).
ClearFox® fixed bed sewage treatment plants have been proven more robust, with lower OPEX costs. More than 200 successfully completed projects have proven this in practice.
In addition, the ClearFox® system was subjected to an external test by the notified test facility, PIA GmbH in Aachen. This is unique worldwide for container systems. The treatment performance of the plant was determined in various scenarios such as overload and underload. This enables the cleaning performance for different application conditions to be estimated in advance.
Approved by notified body PIA
The independent test led to recognition for approval by relevant international specialist institutes such as the Ministère de la Transition écologique et solidaire (France), British Standard (Great Britain), EPA (USA), Department of Sustainability, Environment, Water, Population and Communities (Australia) , CE marking (Europe).
This is why this technology is also recommended by leading specialist organizations such as DWA as the most economical solution for decentralized operation under sensitive environmental conditions and without the availability of qualified operating personnel
PPU offers a complete service as required. This includes:
Planning and advice
Delivery of the complete wastewater treatment plant
Final assembly on site
Installation
Introduction and training for operating personnel
Maintenance agreement
Maintenance and repair
Provision of demand containers (toilet containers, washroom containers, sanitary containers)
Dismantling the container system
Temporary/ Mobile Wastewater Treatment Systems for Refugee Camps
Refugee camps pose major challenges for wastewater treatment. Fluxes of refugees from crisis areas develop at short notice and unplanned depending on the situation. In a short time, camps are created from improvised accommodations, rarely houses. There is usually no regulated discharge or treatment of waste water. The situation is exacerbated by a lack of infrastructure. In general, the settlement takes place on undeveloped land.
The removal or treatment of faeces is often only a secondary priority under extreme conditions. The use of simple latrines and toilet facilities without orderly drainage and purification of waste water supports the development and spread of diseases and contamination of drinking water and surface water. Mobile, quickly deployable wastewater treatment plants help protect the population and prevent diseases.
In these cases, standardized, prefabricated wastewater treatment plants are required, which only need to be connected on site (plug & play). Extensive measurements and structural preparations are not possible.
ClearFox® container systems have been developed for use, tested and degrade up to 100 kg COD per day and container. The prefabrication ready for delivery enables functional sewage treatment plants to be made available within two weeks. The quality of execution of the technology used is comparable to factory assembly, which cannot be achieved on construction sites. Only the surface must be leveled and resilient for installation.
Due to the modular design, in addition to cleaning of domestic wastewater, additional cleaning steps can be added. This can be, for example, hygienizing the pre-cleaned wastewater. All processes run fully automatically, the technology of the immersed fixed bed is robust against fluctuations in inflow and concentration. Operation is straightforward and, after instruction, can also be looked after by outside experts.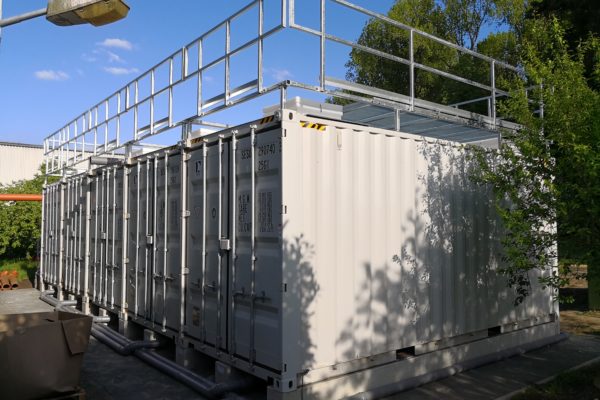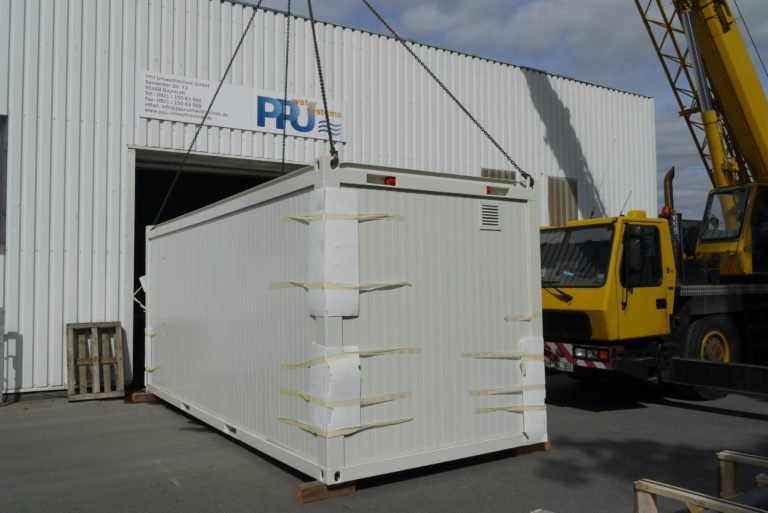 Mobile Wastewater Treatment Systems for Military Facilities and Embassies
Wastewater treatment plants for military facilities and government buildings have special requirements. For safety reasons, all parts of the system must be known and their function must be comprehensible. Funds necessary for the operation must also be disclosed and their safety must be certified. Of course, general requirements for execution quality, cleaning performance, drain quality and operational safety apply as well as for all other application purposes.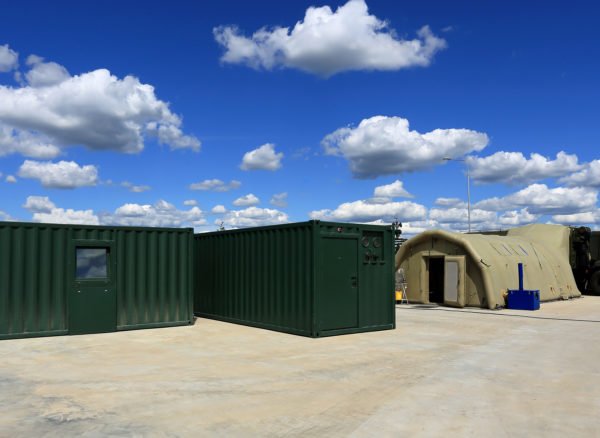 ClearFox® container systems are completely pre-planned in a modular system. The customer can check the individual components and their functions in detail before delivery. All materials used are presented without hesitation and openly. It is proven that no hazardous chemicals are used to purify the waste water. All equipment is documented with data sheets. An outstanding aspect is the electromagnetic compatibility (EMC). All devices used in sewage treatment plants for military purposes must follow the European EMC Directive, which the ClearFox® container systems fulfill. Accordingly, PPU is listed as a reliable supplier by Unesco.
In particular, military facilities abroad are initially set up in small camps and then expanded if necessary after assessing the situation. In compliance with German standards, efficient wastewater treatment is required right from the start. This requires a modular solution such as that offered by PPU, which can be expanded at any time with simple means based on a container wastewater treatment plant. The same applies to the addition of modules for further wastewater treatment such as hygiene and removal of certain pollutants. The power supply with solar panels, which allows the ClearFox® container systems to operate almost CO2-neutral, makes a contribution to resource conservation. The ecological footprint is thus minimized.
Compact/ Fully Automatic Water Treatment Systems for Worker Camps
In contrast to refugee camps, settlement usually precedes planning. The population values to be connected are known. Infrastructure is generally available. However, space is often restricted. The focus of the requirements is therefore on a compact, fully automatic solution for wastewater treatment. In addition, the cleaning process should work odorless and quiet. The standard of fully automatic, uncomplicated, state-of-the-art technology must be guaranteed. Workers' camps are usually only used for a certain period of time as long as the construction site is active. After that, they are broken down and often move on, which would also make sense for the sewage treatment plant.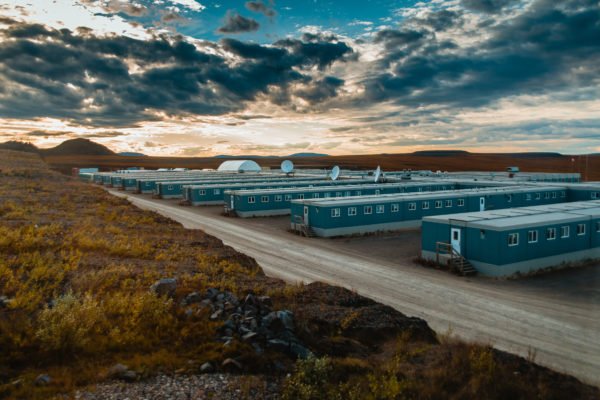 ClearFox® container systems are not only modular, they are also mobile. They can be used again at another construction site and thus offer a sustainable and inexpensive solution for wastewater treatment. It can also be made with its own power supply via solar panels. This minimizes the plant's ecological footprint and makes it almost CO2 neutral. If, in addition to the cleaning of black water (waste water from kitchen, bathroom, laundry cleaning plus feces from toilets), the focus is on gray water treatment (waste water from kitchen, bathroom, laundry cleaning without feces), this can be achieved with ClearFox® container systems without any additional effort. Clearfox® mobile wastewater treatment plants not only clean wastewater, they can even be operated with subsequent hygienization stages to ensure that the domestic water is self-sufficient.
Wastewater Treatment for Worker Camps on Oilfields and Mining Camps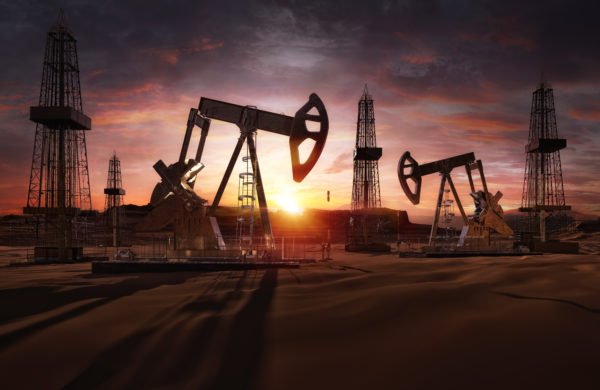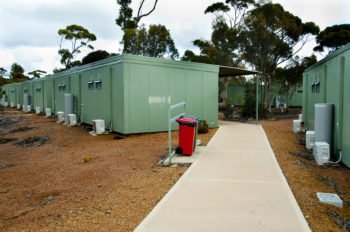 Large quantities of highly contaminated wastewater are generated in oil fields and in mining. In many cases, these are stored in large storage and settling tanks. The domestic wastewater from the workers' settlements is often also drained there. In the course of increased environmental awareness and higher requirements by the authorities, proper treatment of waste water according to the state of the art is increasingly required. Modularly combinable cleaning solutions such as ClearFox® container systems are the most promising, especially for the gradual adaptation to modern environmental standards. High execution quality is guaranteed as well as very good cleaning performance and drainage values.
Mines are often at higher altitudes. If wastewater is treated fully biologically, the supply of sufficient oxygen for growth and thus the cleaning performance of the bacteria is a prerequisite. The air pressure decreases with increasing altitude.
As a result, oxygen saturation in water also decreases. In these applications, ClearFox® container systems are equipped with correspondingly powerful compressors in order to guarantee an adequate oxygen supply for the lower altitudes.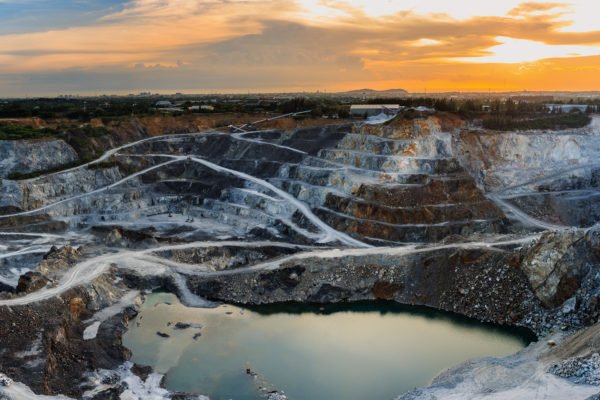 Wastewater Treatment for Worker Camps in Desert Areas and Permafrost Regions
Workers' camps are often located in areas with difficult climatic conditions. These can be settlements near oil fields in the desert or camps in northern latitudes with permafrost. In both cases, the function of wastewater treatment must be guaranteed equally. Here, too, sewage treatment plants in containers are ideally suited. Depending on the requirement profile, the PPU containers are already insulated from heat and cold during assembly. ClearFox® systems are based on the Energy Saving Ordinance in terms of structural heat protection and meet all requirements.
They were therefore recognized as eligible. International energy saving and resource conservation measures such as the Clean Energy Furture Plan of the Australian Department of Industry, Innovation, Climate Change, Research and Tertiary Education are also taken into account. All influencing factors such as the thermal conductivity of the materials used, thermal insulation, avoidance of cold bridges and passive heating are taken into account. In addition to the standard ventilation, air conditioning or heating can be installed. All installed electrical devices were selected based on minimal primary energy consumption and optimal energy efficiency.
Special attention must be paid when installing a sewage treatment plant on permafrost soil. As the global warming progresses, the permafrost soil is exposed to increasingly higher temperatures and not only thaws on the surface. So the floor is in constant change depending on the year. Waste water treatment plants in concrete construction would be exposed to excessive static loads and would have to be secured costly. Container wastewater treatment plants, on the other hand, can simply be installed on sufficiently established bases.
PPU has many years of experience in the construction of sewage treatment plants under difficult climatic conditions. This ranges from projects on Siberian oil fields to desert regions. We offer customers complete advice that goes beyond pure wastewater treatment and also includes assistance in the implementation of systems such as for pipe heating but also cooling units.
Fast Set Up Wastewater Treatment Plants for Emergency and Disaster Rescue Operations
In the event of disasters, time is of the essence. To protect the population, to maintain health and to prevent the spread of diseases, a sanitary infrastructure must be built up immediately. This also includes adequate cleaning of the faecal waste water. The infrastructure is often additionally impaired or destroyed.
In such a crisis situation, wastewater treatment plants are required, which are available in a short time, can be assembled modularly and are easy to operate. ClearFox® container wastewater treatment plants meet all these criteria and have been successfully used in crisis areas for years.
Leasing Wastewater Treatment Systems for Festivals/ Big Events
ClearFox® container wastewater treatment plants can easily be leased. They are built up modularly for the respective application and the required process quality and can be expanded at any time. Installed in ISO sea containers, they are quickly available on site and ready for operation. Depending on requirements, our services include all components from delivery to commissioning and instruction of the operating personnel to dismantling the system. Services for maintenance and repairs can of course also be taken over. We also offer collective containers such as toilet containers, washhouses and sanitary containers.
Temporary/ Mobile Wastewater Treatment Systems for Construction Sites
On construction sites, a high proportion of water is used for cooling and cleaning. An orderly sewage discharge or even cleaning is usually not available. Wastewater treatment plants are therefore required and must be available at short notice. They have to be able to cope with the changing amounts of waste water and work cost-effectively to limit the costs of the construction site.
The ClearFox® container system treats wastewater from construction sites to such an extent that it can be routed to a nearby receiving water or can seep into the subsoil. These systems can either only be leased or used for a permanent solution.
Construction site wastewater generally contains a high concentration of solids and often toxic substances such as heavy metals. Depending on the wastewater constituents and cleaning requirements, our modules can be used to assemble a tailor-made sewage treatment plant to do justice to environmental protection.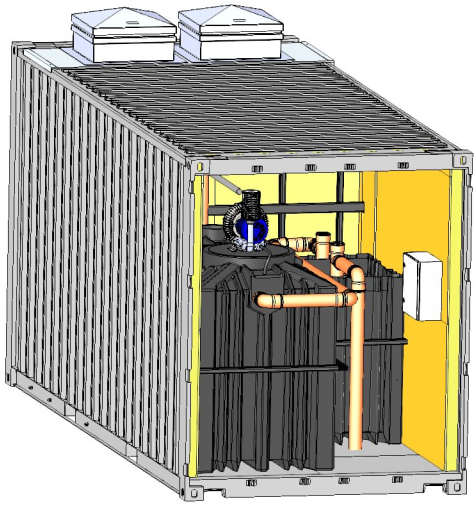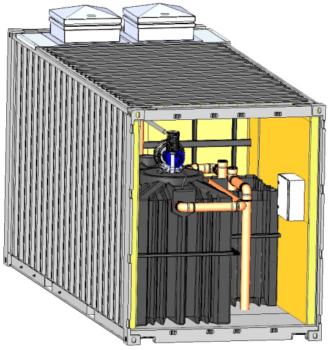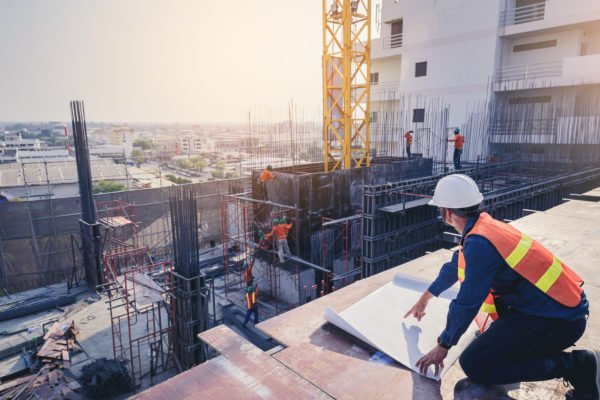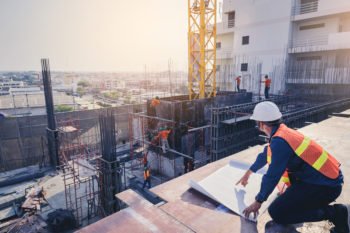 Picture credit:
Refugee Camp by hikrcn / stock.adobe: 27023656
Military Camp by pingvin57/ stock.adobe: 87683138
Worker Camp by vitos / stock.adobe: 308555064
Oil field by Corona Borealis / stock.adobe: 329059748
Worker Camp 2 by Adwo / stock.adobe: 227717959
Mining by bobo1980 / stock.adobe: 162056051
Festival by 2207918 / stock.adobe: 214784332
Toilets for festivals by Rawf8 / stock.adobe: 233575919
Construction site by Panumas / stock.adobe: 322912716